Team India are slowly ticking all the right boxes ahead of the Australia series and the ICC Cricket World Cup in the ongoing Asia Cup, having qualified for the 10th final (9th in ODIs) of the continental tournament. Team India will be up against Sri Lanka in the Asia Cup final, not for the first time and even though they lost their final Super Fours clash against Bangladesh, it should not be read into too much given the Men in Blue rested half of their first-choice side but still got close and lost by just six runs.
Given how the competition has gone for India, probably everything has been tested. Openers had a couple of good partnership with both Rohit Sharma and Shubman Gill getting big scores, Virat Kohli got a century, KL Rahul smashed a ton, Ishan Kishan and Hardik Pandya scored 80s against Pakistan when the top-order failed, Axar Patel in the lower order showed what he can do and with the ball, even though Kuldeep Yadav has overshadowed every other bowler, Ravindra Jadeja had a good game, Mohammed Siraj and Jasprit Bumrah showed glimpses of their best. 
So it seems everything is in order and despite a blip, the Indian team looks like a good side that is nicely coming along for the World Cup. So to talk about that and a lot more, former India fast bowler and national chief selector Chetan Sharma spoke exclusively to indiatvnews.com. Here are the excerpts from the interview where Chetan Sharma spoke about the World Cup squad, players' performances, injuries and his favourites for the World Cup-
Q. Four completed games, three wins, an Asia Cup qualification – all good signs ahead of the World Cup?
So far so good. They are absolutely doing well. The plans, what they have planned, they are executing the plans. That's very important. And the most important thing is the opening partnership because all the games except the Bangladesh [match]. India has won India has batted first Yeah. And when you bat first and we win the toss and decide to bat first the first priority is to have a great opening partnership and Shubman Gill and Rohit Sharma have done a very good job and they have given the platform to the middle order. In the first game against Pakistan, we got 260-odd, then second game against Pakistan we got 356 and against Sri Lanka, if you look at the scorecard 213 was not a big score but the wicket was not up to the mark and very slow and low wicket but we won the game we won 41 runs
It's very important before a major tournament that your top-order batsmen – one, two and three are in good form and followed by the other middle-order batsmen and they can capitalise. And so far the Indian team has stuck to their plans, they're doing well. And the bowlers, I always feel because I myself was a bowler that bowlers always win games for India. In spite you have a good total on the board. Good total doesn't mean like 300-plus. This Indian bowling side is such a compact bowling side it's such a great bowling side if our batsmen give this bowling side approximately you can say five, five and a half runs [per over] I know and they will win the games for us especially Kuldeep Yadav in the side, the way he is bowling at the present, he is the trump card for the Indian side.
Q. Who will be your No. 4 and No. 5 at the World Cup, given that was the biggest debate ahead of the squad announcement?
At the present, the way Rahul batted against Pakistan, got a hundred. I think so that debate is over. And number four automatically Rahul comes in with his experience. And plus as a wicketkeeper and because I always feel if you have a player like Ishan Kishan in form — any player in form you cannot drop him. Yes, he might be a second wicketkeeper but if you just see so many IPL games, these guys have fielded well. And, with Ishan Kishan coming at number five as a left-hand batsman that gives you a lot of depth, plus you can use him at number four which was against Sri Lanka Yeah, we used him at number four because the spinners were on — leg spinners and left-hand spinners — and you can use the left-hander that gives you another option. At the present, what I can visualize and the way the matches are being played, I think so number four will be KL Rahul and number five will be Ishan Kishan. There shouldn't be any changes till the finals and automatically the beginning of the World Cup.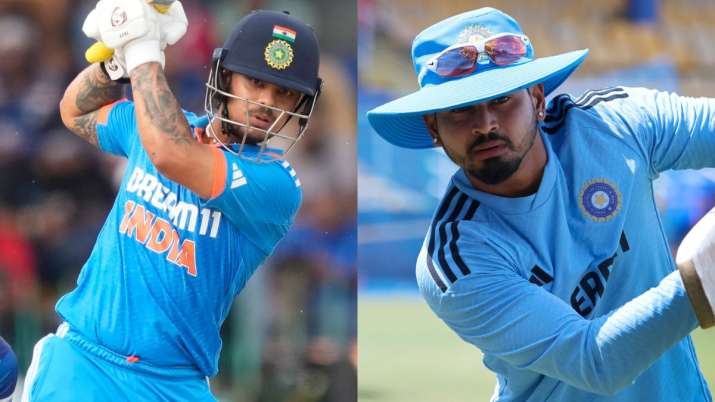 Q. If Shreyas Iyer doesn't get fit?
If he doesn't [get fit] like if the spasm what we are hearing regarding the spasm and anything goes wrong, automatically Tilak Varma comes in. He's played his first game against Bangladesh. And obviously, he will be the first choice, because he's playing for India, he started with T20s. He's doing well he's performing well. And he's the guy who can bowl a bit. Yeah, and the more matches he plays he will get the confidence and he will start bowling well as an off-spinner where we don't have an option.
Q. During your tenure what was your view of Sanju Samson as an ODI player and where do you stand on the Suryakumar Yadav/Samson debate?
First, nobody knew that Rishabh Pant will get injured. Rishabh Pant was number one and then you have KL Rahul and then you have Ishan Kishan. You had three options at that time. But as Pant got injured and then obviously KL Rahul became number one wicketkeeper and number two Ishan Kishan and if something happens here, I hope — fingers crossed — nothing happened like that. And if anything happens like this, then Sanju Samson comes into picture. But before that, I don't think Sanju Samson comes into the picture. He's very good in T20s. There's no doubt about it. He's good in ODIs also, he needed a little longer run. But at the present, he cannot get a longer run because the two guys are already performing and we hardly have any place for Sanju. So that's why he has to wait for a while.
Q. You mentioned that Kuldeep Yadav will be a trump card for India, do you think his form forced the selectors to not take another spinner who doesn't bat?
You are playing with Ravindra Jadeja and Axr Patel for long time and the setup is there. And then Kuldeep Yadav, you need a wrist spinner, you had an option between Kuldeep Yadav and Yuzvendra Chahal. I still feel selectors must have discussed the option of off-spinner and especially Washington Sundar or Ravichandran Ashwin, either of them. But when you have a settled [spin attack] like the guys I am talking about Axar Patel and Ravindra Jadeja playing for long time together. And captain and the team management I think so must have opted for them instead of any off-spinner that is that is the reason like they're trying with Tilak Verma. If anything goes wrong, he comes into the side and he can be an option as an off-spinner because I think so in a World Cup and it's such a big platform in ICC World Cup, when there are nine matches to play. You might need an off-spinner because a lot of teams have left-hand batsmen. You might you might need an off-spinner. Let's see. But still you you have Kuldeep Yadav as he takes the ball away from the left-hand batsmen and it will be fine.
Q. How do you balance the experience vs form dilemma when it comes to senior players, who are in and around the side but are not making the first XI, say in case of Chahal and Shikhar Dhawan?
Shikhar Dhawan was not there [in the reckoning]. Chahal always missed out. Like if you have one choice in wrist spin. It must be the management or the captain who thinks that you need a finger spinner more than a wrist spinner when you already have one wrist spinner. I think so Chahal missed out there. He's a good bowler, there's no doubt about that.
[If Chahal batted] That would have been a different story altogether. But that's a different scenario. And look, end of the day, it's only 15 players to be selected, And you have near about 22 players who you can fit anybody in. Yeah. And there is no doubt about those 22 players, even 24 players, and somebody has to miss out. There's nothing to feel bad about it. Need of the hour is this, what selectors have gone with and what the team management, selectors and the captain must have discussed and I think so, it looks pretty good side. You have a lot of all-rounders in it. You have Jadeja you have Axar, you have Shardul Thakur, you have Hardik Pandya – you have two fast bowling all-rounders two spin all-rounders. It looks very formidable side and I don't think so you can add… otherwise debate we can go for days. every day. Yeah, we can go for days and debating on every player like why Chahal is not there? Why Sanju is not there? Why Washington or Ashwin is not there? There are so many other players who are knocking the doors, but end of the day, you have to select just 15 players.
Q. What's the one thing that you want to see with this side improve in terms of playing multi-nation tournaments or the knockouts in these tournaments because 10-year is too long for a team to not win a trophy that has talent across the board?
2013 the last in England we won it, the Champions Trophy. And it's '23 now, it's 10 years. According to me, I think so our batting has to really come up good. The way we are doing it at present and runs on the scoreboard, the key factor will be according to me the entire tournament will be Kuldeep Yadav. Kuldeep Yadav is the man who will win games for us. I'm not saying Bumrah is not going to do well or… but you asked me one name. He will be the X Factor. Look, spinners always perform well when your fast bowlers get you the wickets, initial wickets like Bumrah, Siraj, Shami. If they're not going to get wickets in first 10 overs, spinners are going to struggle. The most important thing is how your fast bowlers bowl in the initial 10 overs. If you get a couple of wickets, then there's no way like spinners are not going to perform well. The only problem comes when your fast bowler doesn't take initial wickets and the batsmen are scoring at a rate of five, five and a half runs per over and then your spinner comes in. Then there's a problem for the spinners because after 10 overs or after eight overs spinner comes in. The batsmen are set and then the spinners definitely struggle. There, the X factor will be Kuldeep because with a chance the fast bowler doesn't get the wickets, Kuldeep has got the nag to come and get the wickets and he will be the X-factor in that World Cup.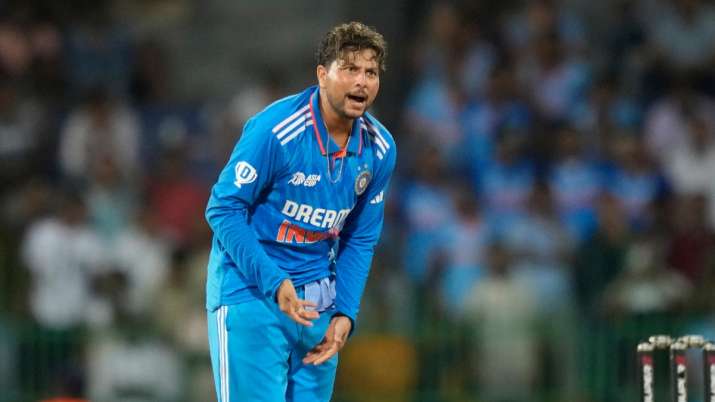 Q. Your favourites for the World Cup?
Obviously India [chuckles].
Q. Apart from India?
[There are] good sides you know. Australia is a tough side. Even England, the way England is playing they're going to be a big challenge. Even Pakistan, you know don't underestimate Pakistan because we seen Pakistan playing cricket. Don't go by the Asia Cup because there were so many injury injuries, still got about a month and everybody will be fit and Pakistan will be another side, they can really threaten you. Even Sri Lanka, Sri Lanka because the conditions are same and with their fast bowlers coming back, with Hasaranga coming back, uff… this side. I will take them as Dark Horse.
Sri Lanka will be the dark horse. Believe me or not this side you have to be very, very careful. Now we're going to play the finals against them. We have to be very careful and specially in Sri Lanka, they are a tough side but in India also with their main fast bowlers coming in, Hasaranga coming in, Wellalage has become a new sensation.
Latest Cricket News