India TV Poll Results: The cricketing rivalry between India and Pakistan is considered to be the one of the biggest in the history of cricket. The world comes to a still when these two giants clash against each other. However, the face-offs are not common nowadays with the two teams meeting only multi-nation tournaments.
India and Pakistan have not faced each other in a bilateral series since 2012/13 when the Men in Green traveled to their neighboring nation. The two have met each other in numerous ICC events like the ODI World Cup, T20 World Cup, ICC Champions Trophy, and the Asia Cup. The two Asian Giants were face-to-face with each other recently in the 2023 Asia Cup when Sri Lanka's Pallekele hosted the two sides. Even though it was a washout match with only the first innings taking place, the buzz of the game was at the stratosphere. 
Pakistan captain Babar Azam said that the rivalry brings high intensity. "India-Pakistan will always bring high intensity. We want to give 100% in every match, and hope to do that there as well." India TV asked the fans and Internet users what they think of whether these two shall resume bilateral series between themselves or not.
The fans gave some mixed reactions but most of the people were of the view that a bilateral cricket series should not be resumed between India and Pakistan. We received a total of 6081 votes over a period of 24 hours. 69.19% of people believe that the two should not be playing bilateral series together, while 28.70% were of the view that they should resume the bilateral ties. Meanwhile, 2.11% of people could don't say either and replied 'Can't say'.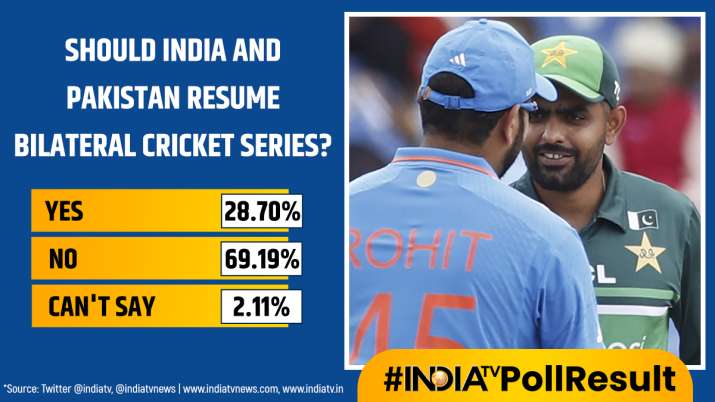 Should India and Pakistan resume bilateral Cricket Series?
Yes – 28.70%
No – 69.11%
Can't Say – 2.11%
Latest Cricket News